A colourful sensory adventure!
Messy play is great fun and even better when the sun is shining so you can take it outside and make as much mess as you like. The key is to provide as many different textures as you can and adding in the colours not only makes it visually more appealing but also educational.
You can use almost anything especially stuff found in your kitchen to pop into different trays/plates, just make sure its easily coloured. We used:
Very stodgy prorridge still warn to the touch
Really cold wobbly jelly
Coloured uncooked rice (Colour with a bit of vinegar
& some food colouring, leave to dry)
Cooked pasta bows (food colouring added to water)
Coloured shaving foam
Some other ideas are: cooked rice, cooked spaghetti, uncooked porridge oats, porridge made to different consistencies (we went thick and stodgy but you could add more water to get a completely different feel, much more sloppy mess!) uncooked pasta, coloured sand, seeds, ice slush...anything! Younger ones can join in too if you use edible stuff only like the porridge, jelly and ice slush, angel delight etc as it won't matter if sticky hand end up in their mouth as they always seem to and they will enjoy the sensory delight as much as the older ones.
You can either line them up and let the kids get stuck in getting messy if they are younger.
Or cover them with a towel/use blind folds for older ones to guess what they are touching and test their senses even more & heighten their sense of touch.
We did cover for the first bit
but then just got stuck in with getting as messy as we could for the rest of our time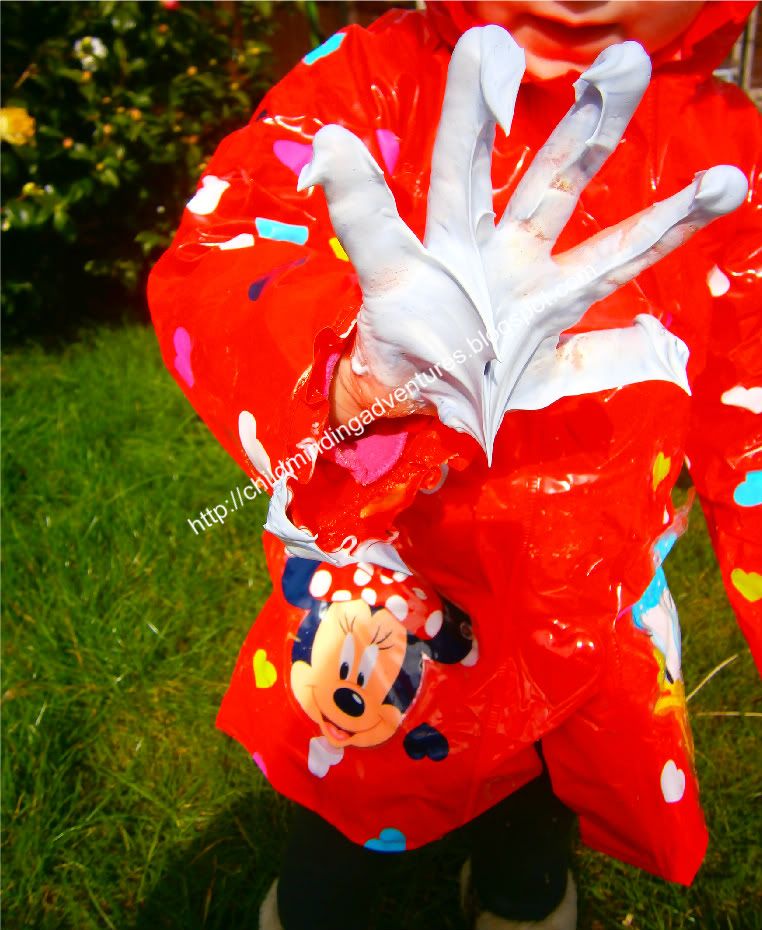 And if you add in a bowl of water at the end for added fun it also makes cleaning up all the more easy!
I did this with a 2 year old and it was amazing to see the words she came out with to describe what she was seeing feeling throughout this:
Touch: Warm, Cold, Wobbly, Squidgy, hard, soft, wet, sticky, sloppy, chilly
Smell: Strawberry (Jelly), Soapy (bubbles in water), Flowery (Shaving foam)
Sight: Red, blue, green, yellow, purple, shiny, bubbles, pasta, rice, jelly, wobbly, porridge, foam
Sound: pitter patter (rice), rain (rice), splash (water)