We recently donated our baking skills to a charity cake stall so as well as the usual cupcakes we decided to try something a bit different - Cake Pops!
Cake on a stick - who'd have thought! The Little Chicks were amazed at them, thoroughly enjoyed making them & they tasted yummy (they went down well in the sale too!)
It is important these are done in stages over a few days with each stage being different and fun, from getting messy crumbling cake and mixing to rolling the dough into balls and then dipping in chocolate & sprinkles.
What you will need
A plain sponge cake
-
vanilla/chocolate/madeira etc (homemade if you want to add in another activity or shop bought for speed & ease is fine)
Buttercream
(Again, homemade if you like or shop bought for ease)
Chocolate/Candy Melts
-
(I used Candy Melts which are much easier to cover and smoother than chocolate. A little goes a long way too. You can get it from ebay which is fairly expensive or £2.99 a bag in hobbycraft)
Sprinkles
Lolly sticks
-
(I got some from ebay in a pack with cellophane bags and ties which were really inexpensive and look great for taking home to parents)
Steps
1. Crumble the cake into a bowl. Most recipes will tell you to use a food processor here but hands are much more fun and did the job perfectly!
Mix in equal quantity of buttercream to the cake crumbs and stir into a dough like consistency
Cover bowl with cling film and refrigerate for at least an hour
2. Once refrigerated the dough should be set and fairly hard. Spoon out small amounts and roll into balls about 1.5" in diameter.
Melt a small amount of the chocolate. Dip the end of the lolly sticks in the melted chocolate and then insert into the balls
Refrigerate (Over night it best)
3. Melt Chocolate/Candy Melts and spoon onto the cake pops and cover. (This will need to be done fairly carefully so they don't crumble off the sticks.
Time for sprinkles! Easiest way as they are delicate is to sprinkle over the pop rather than rolling them in the sprinkles.
To set, either put the sticks into oasis or playdough into the fridge or if you use the candy melts I found they dried really quickly so the children could just hold them for 30 seconds after sprinkling and then lay them down flat to pop in the fridge
4. Once completely set you can pop them into cellophane bags to take home!
Here are ours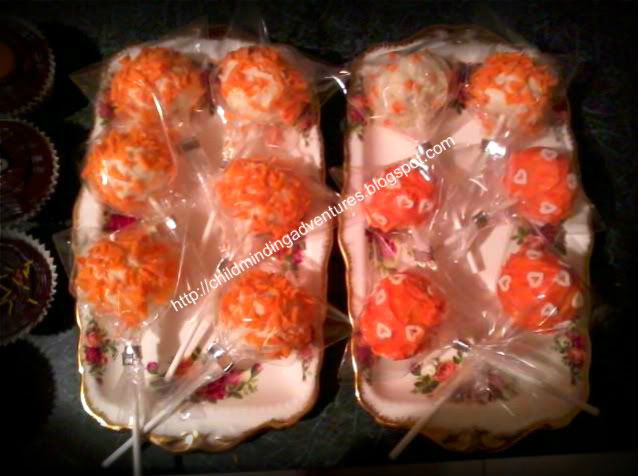 Pin It